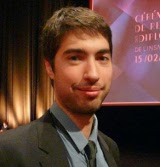 Hi!
I'm Jonas Bru, a software engineer, currently working at AlephD as a full stack developer. Not so long ago I was studying at INSA Lyon, France. My friends tell me that I'm a pragmatic programmer. I believe that one must not look for the right job, but for the right place to work.
I'm quite a traveler guy, last year I did an Erasmus semester at Chalmers University (Göteborg, Sweden), then an awesome internship at Atlassian, in Amsterdam.
Feel free to contact me :)
News
1 February 2015 - Mea Culpa project added! Some content and graphic updates as well.
8 April 2014 - Intro and CV updated. I work at AlephD now :)
11 October 2013 - Tiny Library Manager project that I did in Atlassian added!
6 October 2013 - The few icons are now rendered using Font Awesome.
1 September 2013 - Description of my awesome internship at Atlassian added!
31 August 2013 - The site uses now Jekyll to render its content.
25 April 2013 - Added this news section and a link to my bitbucket profile.
21 April 2013 - Now I know some Python! Thanks Cod'INSA :)
25 February 2013 - Added a project page for the Paris Taxi Flow project, you can test it here (in Flash). May take some time to load, be patient.